What I've Been Up To, August '13
Posted by blatantblithe on September 1, 2013 Blog posts | Latest posts | | No comments
Gigging
I played at the Uplands Music Festival last weekend, which was awesome!  The venue was a wee bit quiet during my set, but as always the small crowd there were very supportive and enthusiastic.  I also played a few other successful gigs, which I wrote about here and here.  I've got 2 lined up for September at the moment; check them out on my 'live' page.
Writing
August was the month of the minizine!  I got the feminist minizines I made with my friend Eleri reprinted on lovely coloured paper, and have been giving them out for free with zine orders:
I also created 2 new minizines – one for my friend Nat, who's moving away to Canada, titled "Things We Will Miss About Nat" (inside page pictured below), and one titled "Beauty Comes In All Shapes and Sizes" to put inside beauty magazines and teen magazines; I hope it'll help its readers feel a bit better about not looking like an airbrushed model.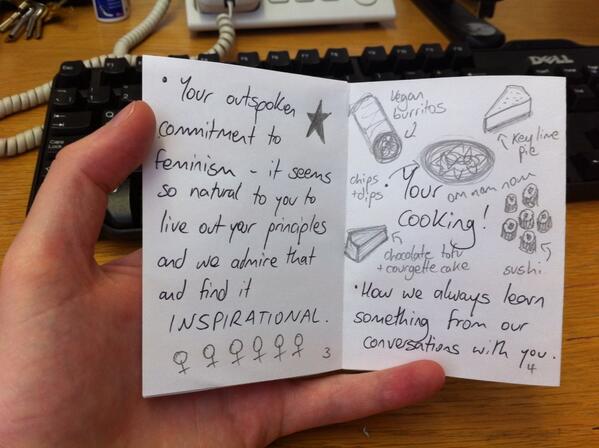 I'm currently working on issue 13 of my perzine, which I hope to release next month in time for Bristol Zine Fest, where I will be tabling!
Reading
I've felt a little rushed off my feet this month with all the various bits I've been doing, and the extra shifts I've been doing at work, so unfortunately haven't read as much as I would have liked.  I did read an interesting book called Witchcraft: A Very Short Introduction – I haven't huuuugely enjoyed any of the Very Short Introduction books I've read, but I was given a free copy so thought I'd give it a go.  I actually found it quite a frustrating read, as the (white male) author claimed that witch hunts were NOT rooted in misogyny, and that radical feminism's claims that they were are just "horror fiction".  I find this a bit perplexing, especially as he confirmed that 85% of victims were female, that women were seen during this time as "inherently evil", and that the Malleus Maleficarum condemned women as "an evil of nature".  Of course there were other societal factors at play, but I think the fact that the vast majority of victims were female speaks volumes and should not be overlooked!
Wearing
I love this dress!  I very rarely spend money on new clothes for myself, but I found this on sale in Miss Selfridge for only £10 (down from £60)! It's black and lacy and I adore it.
I've started getting into wearing less black and more neutral colours – I love the way my new red hair pops against those muted tones.  Here I'm wearing a pale blue shirt, a dark green denim skirt, and my pewter DMs.  My mirror is not very good for selfies, so not sure if you can see this all that clearly!
Black summer dress, blue denim shirt, pewter DMs. (Shamelessly posing next to a picture of my face on the Kit Launch billboard, ack)
Some things that have made me happy recently:
– Hitting week 4 of Couch to 5K! I've been doing this running program for a few weeks now, and although I've been struggling and have felt very frustrated with my progress at times, I've finally broken through a wall and made it to the halfway point.  I can feel my stamina and fitness improving, which is amazing and so encouraging.  Running gives me such a clear sense of achievement, and it makes me feel unconditionally proud of myself in a way that my other pursuits often don't.
– Being invited to play a gig at Mozarts this week.  I love the venue, it's so cozy and the atmosphere is supportive and friendly.  I'm genuinely more excited than nervous about this gig, possibly for the first time ever!
– Celebrating my one-year anniversary with my bf last weekend!  We'd both had a tiring week so instead of going out he cooked me a romantic meal and bought me a bouquet of red roses 🙂 what a sweetie.
– Dying my hair pillarbox red!  It feels good to get back to red after a few weeks of copper. Read about how I did it here.
– Writing new music again.  I hadn't made time for writing for months, partly due to laziness and partly waiting for some dramatic sort of inspiration to strike (you know, that whole "I can't write when I'm happy" trope?).  Actually, as unromantic as it sounds, to create art you have to turn up at the page – i.e. sit down at your desk and write, not wait until you want to write.  I've been setting aside time every few days to just sit with my notebook and write, practice my song writing skill like I would any other skill.
– Feeling the cooler weather return (unpopular opinion alert)!  Our summer was nice, especially as I got to experience the sunshine during my booked annual leave; alas, I am an autumnal girl at heart, and am looking forward to the cooler weather, longer nights, and crunchy leaves, not to mention my 24th birthday at the end of this month! 🙂
Got something to say?